Plein Airs: Composition, Oil Painting, Graphic Art With The Artist Natalia Grigorieva
Plein air classes. Polenovo - Vasily Polenov's maison (the famous Russian landscape painter associated with the Peredvizhniki movement), Palanga - desert Baltic Sea prairies, endless Curonian Spit (Kurische Nehrung), picturesque South of France, miniature Luxembourg, other escapes.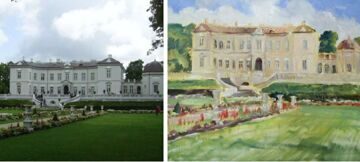 Painter, graphic artist, Illustrator and teacher Natalia Grigorieva provides painting and drawing classes based on her unique method "Freedom to Artist"- a special training technique developed in 2008 for Education Publishing House. Accelerated but highly effective method by Natalia Grigorieva is based on three key points: competent composition, system approach towards painting nature, mosaic perception of space. Life-drawing classes only. Theory inseparable from practice, each new principle worked out instantly with variety of techniques and materials: from the coal paper sketch to oil on canvas. Even a short course of 5-10 classes teaches the core things: to build competent composition, to estimate space of the painting, to scale the objects, to correlate object volumes against the background. A competent composition is the key to any painting of a great impression. Thanks to the unique training system, Natalia Grigorieva's students achieve certain results, talented works participate in personal exhibitions of the artist in prestigious exhibition space in Moscow and Europe.
Plein air: composition, painting (tempera, oil), drawing (charcoal, ink, pen).